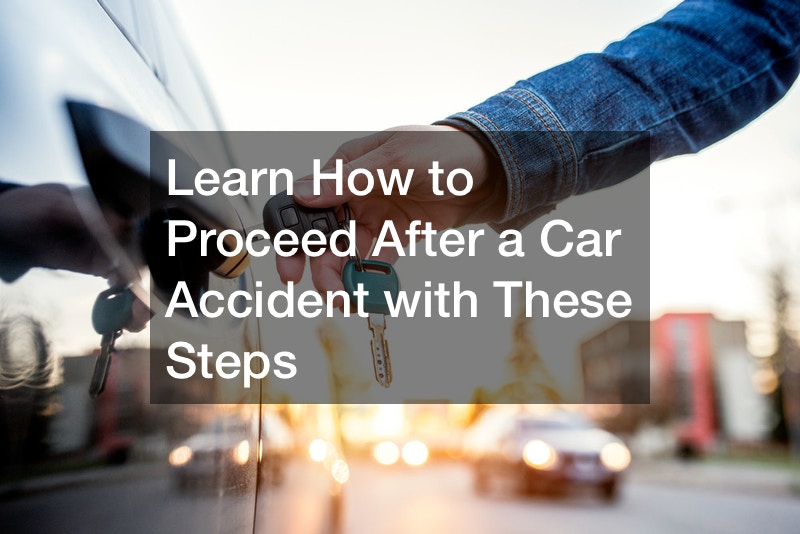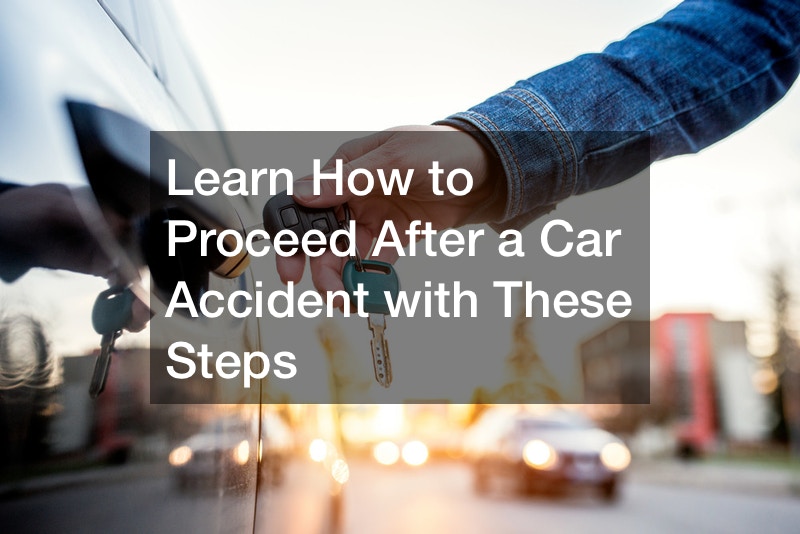 Getting into a car accident is probably the last thing on your mind when you are getting behind the wheel, given that there's only a one in 366 chance of an accident in every 1,000 miles. Nevertheless, 10 million vehicles get into accidents each year, meaning that it can happen even to the best of drivers. Here are some basic steps to follow if you need to know how to proceed after a car accident.
Get Your Injuries Treated
Getting immediate medical treatment should be the first thing you do concerning how to proceed after a car accident. A professional check-up allows you to get the right treatment for any injuries you may have sustained in your collision. Regardless of the severity of your accident or lack thereof, medical treatment should be an absolute must. This is because some injuries aren't visible to the naked eye. Internal bleeding or hairline fractures can often go unnoticed. If you forgo treatment, you may end up dealing with more serious medical issues as a result down the line. In addition to a medical check-up affording you these benefits, it also sets the foundation for starting on your insurance claims and personal injury proceedings.
Treatment comes with medical records, crucial documentation that details the extent of your injuries, recommendations for treatment, and diagnosis. When filing an insurance claim, your provider uses the health records as evidence to ascertain the number of damages to be awarded. If, however, the compensation awarded fails to meet your medical upkeep, your next step should be contacting your attorney. In this scenario, your health care plan acts as evidence in your personal injury claim, making it possible for your lawyer to ascertain the full amount of compensation owed. This includes your current medical costs and future loss of income due to your treatments.
Contact Your Insurance Company
Contacting your insurance comes next. This step allows your insurance company to conduct thorough investigations free from interference. Depending on the extent of your injuries, this step can be performed while at the accident scene as you wait for law enforcement or medical help.
Why Is It Important To Contact Your Insurance?
Contacting your insurance can seem trivial when dealing with a minor accident, but it's always the best option when it comes to getting compensation for property damages. When your insurance comes in, it does so with a level of authority, something you may not be able to do on your own. This means you get the right compensation for your accident insurance policy, allowing you to take care of your impending medical and property damage costs. Your insurance also steps in to take care of the repair fees for your vehicle or treatment before a settlement is made.
If, on the other hand, you get into an accident with an uninsured motorist, your expenses are likely to pile up. Where you have uninsured motorist coverage, your insurance company helps offset any costs in the process. This includes your bodily injury expenses, any auto glass replacement on your vehicle, and other passengers covered under your accident insurance policy.
What Information Should You Provide to Your Insurance Agency?
Information is crucial when filing your insurance claims, and as such, you will need to provide your insurance company with the following:
Contact information for the parties involved in the accident. Where possible, make it a point to ask for details such as the name, physical address, and telephone numbers of the accident participants. In cases where a hit and run occurs, try to jot down any details you may remember, such as the motorist's registration details or the vehicle's description.
The other party's insurance details. These are also important as they will indicate which insurance company to contact for your compensation.
Details of the law enforcement agency at the site of the accident. These include any highway patrol or police, as they can also provide information that is crucial to your investigation.
The time and place of the accident. These will come in handy where investigations need to be conducted, helping all parties make an informed decision about the accuracy of your report.
Photographs of the area of the accident. Photographs go a long way in backing up your statements, acting as evidence where the other parties dispute the extent of damage caused.
Get Your Car Fixed
Getting your car fixed after getting into an accident takes you one step closer to getting your life back on track. This step can come with a few setbacks, so here are a few things to consider.
Tips for Getting Your Car Fixed
While most insurance companies typically have their selection of preferred mechanics, most states give you the option of choosing your auto body shop. Whichever choice you settle for, consider sticking to a shop that knows your car. Mechanics specializing in your car brand understand the ins and outs of your vehicle, meaning you will get quality service that allows you to cut back on any second trip.
Before your mechanic can begin working on your car, have them first give you an estimate of the total repair costs. These include any work on serious dents, storage fees where they apply, and labor costs. Relay the costs to your insurance provider, and compare if your compensation is lower than the repair cost. If this is the case, have your insurance negotiate with your mechanic. Where no results are forthcoming, contact a car accident attorney to smooth out any deadlock.
Upon commencement of the repairs, your mechanic may find additional damage, which would require additional compensation. Transmission rebuilds can, for instance, result in more repairs, adding to the cost of damage. As previously detailed, let your mechanic and insurance iron out the costs to ensure you don't end up paying for the repairs out of pocket.
Contact an Accident Attorney as Soon as Possible
An accident attorney refers to a lawyer who specializes in accident cases, specifically auto damage and injury. Where you fail to get the right compensation from your insurance, a car accident lawyer will help you with the following details.
Gathering evidence detailing your accident. Like always, the right information will help you get the proper damages. Your car accident injury lawyer uncovers all details concerning your case, including police reports and medical treatment records that take into account the costs of treatment for your care. Once that's taken care of, the negotiation process for your settlement will begin. Your car accident lawyer moves to trial where this fails, a role which they also perform until you get your compensation.
What Types of Car Accidents Do Car Accident Injury Lawyers Cover?
Driving Under the Influence – Driving under the influence of drugs or alcohol is one of the most common causes of accidents. If you find yourself in this position, a car accident attorney helps you determine the right type of compensation for injuries and damage caused.
Rear End Accidents – These often involve rear-end damages to your vehicle when the driver behind you hits your vehicle. Here, negligence falls on the other party, allowing you to make a claim.
T-Bone Accidents – These involve injuries caused when a vehicle hits you from the side. Due to the impact caused, T-bone accidents are often the most painful and costly to recover from. From bodily injury to loss of income due to the fatalities, a professional attorney helps you navigate this.
Head On Collicions – Like T-bone accident, head-on collisions often involve heavy impact, requiring enormous medical expenses with the possibility of a loss of income.
Collisions on Private Property – It's possible for a car to hit a building or residence, resulting in property damage. Claiming compensation in such a case may not be straightforward, an aspect that a car accident lawyer will help with.
Minor Car Accidents – Minor accidents are easy to shrug off, given the minimal damage they come with. Unknown to many, they often come with hidden legal exceptions that work in your favor during compensation. Rather than let another motorist's negligence slip away, have your attorney look at it.
Distracted Driving – How often have you come across drivers texting, calling, or reaching for something in the car? In some states, distracted driving is considered negligence and can attract compensation. That means that even when you get a simple dent in your car, you are still entitled to compensation.
Reckless Driving – You have probably witnessed road rage a few times, with some resulting in serious accidents. From street racing to disregarding traffic rules and overspeeding, any injuries caused by such activities will fall under aggressive ad reckless driving. This means that you are protected by law to receive compensation once your car accident attorney identifies the proper defense.
Trust Your Attorney to Help You Navigate the Aftermath of a Car Accident
We've covered the types of accidents a personal injury attorney or accident attorney can help you with, it's also important to take a look at some of the other duties they perform to help you learn how to proceed after a car accident.
Some of your personal injury attorney's duties include:
Negotiating with your insurance company. Where insurance companies withhold full compensation, a personal injury lawyer will review your policy details to ensure you get the maximum compensation.
Investigating claims. Before an accident injury attorney can move forward with any complaint, they will evaluate clients to ascertain that they can secure a settlement. This includes interviewing the defendant as well as any witnesses or participants in the accidents. It is after this that they can establish the liability and extent of damages.
Sending demand letters to your insurance company. Upon investigation, your personal injury attorney sends a demand letter to your agency, asking for a specific amount of damages.
Filing complaints and legal claims on your behalf. This comes only where demand letter claims are unsuccessful in a bid to allow you to receive the proper damages.
Preparing pleadings after settlement falls through. Here, your lawyer will prepare arguments stating why the defendant is liable to pay for damages. Pleadings also state the number of damages that you seek.
Representing you in the trial. The next solution is trial if the above steps fail to yield results. Rather than facing the court on your own, your accident injury attorney represents you while also preparing you for any scheduled court appearances.
If you need to know how to proceed after a car accident, these tips can help you do just that. With the right plan of action, you're sure to get back on your feet in no time after a collision.